This list will not be focused on no one particular genre and will provide a vast range of shows, due to the fact that the 'Two Crazy Youths' are, as said in our welcoming post – extremely different, but have in fact, quite recently grown to appreciate and respect the others taste and surprisingly even love it. As this recent change has been made through the power of US version of The Office (even though the British version is a *ucking masterpiece).
The Office (US)- A TV show that has not only changed our lives in ways you cannot imagine, but has changed the way we watch TV forever. Witty, smartly written with strong plots and even better characters. The Office is a show that has started my journey into my respectable television watching choices and for that I shall be forever grateful.
The Office (UK)- The US' older, much cruder and obstinately unrefined brother is a living and breathing masterpiece that has left a legacy so great, comedies of late have fallen flat in its wake (I know that rhymed). The golden element that so many shows miss is the silky, yet graceless and unrelenting chemistry between the actors. I would recommend this over the US, even though I have such a deeper connection with the American remake.
Game of Thrones- The deep and blatant love we have for this show has already been expressed in a previous post: Game of Thrones: An unhealthy obsession. GoT is a powerfully brazen and artful construct of a world that terrifyingly parallels our own. The subtle yet immense depth of GoT should be reason enough for anyone to watch it. Of course, there is violence that TV has not seen since Rome, and nudity that only HBO could get away with, which are probably the two primary reasons that people watch it + the awesome bad-assery of Daenerys.
Friends- Words cannot describe my absolute love for what I consider the greatest TV show in history ( a strong argument can be made for Seinfeld). The beauty of Friends is not the plot or the writing, the power and allurement behind the show are the characters. Rachel, Monica, Ross, Chandler, Phoebe and Joey are what make Friends worth watching. The pure and undeniable friendship that these six have is enviable, and so compelling that they are more like family by the end of the 10 incredible seasons (ADDED BONUS: Joey and Chandler's wonderfully superior friendship).
Gossip Girl- Obviously not as noteworthy and masterful as the others on this list, this show however holds a very special place in my heart, for, unlike my other half, I did not grow up surrounded by fantastic popular culture sources; so almost sadly (but not really) this screwed up show about the glamorous youngsters of the Upper East Side in New York is what introduced me to the wonderful and meaningful connections you can create with those you watch (mostly question) on your screen. Looking back on it – G.G. is kind of really stupid and totally unrealistic but extremely binge-worthy and makes you feel better about your life choices. Also Blair and Chuck are pretty great.
Brooklyn Nine-Nine- Unremorseful in its unusual style of storytelling and character dynamics, Brooklyn Nine Nine is Gina in a world full of Vultures; although none of the characters are truly "normal". The cop show is almost a satire of NYPD Blue, Law and Order and Miami Vice ( which B99 does actually parody), but it controls its level of mockery to maintain the distinct eccentricity that has carried through the show so magnificently (ADDED BONUS: The gift that is Gina Linetti).
The Walking Dead- Before I say why The Walking Dead is pretty much the coolest show I've ever watched, I will just express one thing: I love(d) Glenn and Maggie. TWD is as flawless as you can get for a gory/glamorously intense zombie thriller. The suspense of the show is immense, and the balance between shock and emotional appeal is a fine line done well by the show-runners (ADDED BONUS: Daryl in all of his marvelous glory).  
Girls- I'll be honest, Girls is not a happy show. Painfully awkward and bordering on depressing, Girls somehow manages to show a sliver of a rainbow in a dreary sky, and the tiny piece of colour is SO worth the overtly melancholy humour that Girls exudes. The most underrated comedy airing currently (tied with You're the Worst), Lena Dunham's brain child is, in a bleak way, the voice of her generation; or, at least, the voice of a generation.
Downton Abbey- Elegance in its truest form, the almost tangible class of Downton Abbey is so beautifully entwined in the story, it comes close to making up for the season 3 finale, something I am still crying over. However, that is just a small glitch in a show that, has very much influenced other period dramas such as Call the Midwife and A Place to Call Home, and is resourcefully smart in keeping interesting plot lines, well, interesting. 
Parks and Rec- A show that I would recommend to anyone, Parks and Rec is one of the most layered and emotionally deep comedies that has come out of the 21st century. Leslie Knope (played exceptionally well by my Queen, Amy Poehler) is an icon in every way and carries the show, along with the rest of the incredibly talented cast, that is one part political comedy (nothing on the scale of Veep though), and one part documentary about the life and times of small town locals (ADDED BONUS: Ron Swanson. Enough said.)
Friday Night Lights- Tirelessly timeless and generous in the way that it has given the world characters, who, are not only raw and real in a whimsical sense, but are human and could be living alongside the rest of us. Friday Night Lights, however, suffered the curse that many critically acclaimed shows have befallen: the cancellation. Please, if you don't watch anything on this list (which would be a mistake) watch FNL, because you will come out the better for it. 
Orphan Black – Introduced to us in 2013, this show centered around human clones on BBC America is fast-paced, unpredictable and unique. Breaking beyond the walls of expected sci-fi, the shows true appeal lies in its ability to weave in hints of comedy, drama, crime and thriller. It doesn't restrict itself to only one genre as many today seem to do so and that's why I feel anyone can watch it and absolutely fall in love with it. Also the fact that Tatiana Maslany may have the hardest gig on TV right now, superbly portraying 6 different characters in addition to many other clones with smaller roles should be a reason to check this one of a kind show out.
New Girl- The bond between Jess, Nick, Winston and Schmidt is the one reason why I watch and re-watch New Girl. The endearing personalities that are so carefully played out by the actors and writers, are, unlike many shows seasons into their sometimes tedious runs, still invitingly likable. The show also has one of the best episodes of TV that I have ever seen: "Background Check". I laughed almost as hard as I laughed when I first watched the cold open to "Stress Relief".  
The OC – When people talk about teen dramas, the first thing that will come to mind is an overwhelmingly large amount of sex, love and guns. Yes, I'll admit, The OC does have all of those mainstream TV tropes, however, it pulls it off so well, it manipulates you into thinking that it is no adolescent soap opera, but a genuinely well-crafted TV show that brilliantly exposes the hardships of life as a teenager in a way many have and will fail to do so (*cough Pretty Little Liars cough*). (ADDED BONUS: Seth Cohen, TV's greatest character, and Teen Wolf's inspiration for Stiles).
Suits – Easily the sexiest show we have ever watched, Suits, unlike many law-based shows, is sophisticated, while being relateable, smart, but not overtly subtle, and seductively watchable. Each and every character is perfectly unique, and the plots never get boring (which is actually quite remarkable for a show about the lawyers *Law and Order*). The both of us adore Suits because of its absolute brilliance. (ADDED BONUS: the show is super, duper sexy, if I haven't mentioned that before)
Veep- Feelings of intense adoration spark when Veep is at all mentioned. A political satire like no other, choosing the path of dealing with its own utter absurdity instead of taking a chunk of out of the bloody mess we've made in our own real world politics, a welcome in 2016, especially when there is the stupidly easy content of President-elect Donald J. Trump (RIP WORLD). With the clever use of the foulest language, the Emmy-winning performance of  Julia Louis-Dreyfus and the biggest and hardest balls of creativity – this show is simply the best comedy out on TV right now.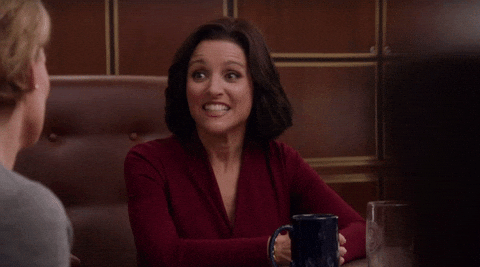 Seinfeld- Sparkling with a unconventional and crisp charm that TV had never seen before, Seinfeld has cemented its place in the sitcom hall of fame. Neurotic, rich in humour and perfectly witty, Seinfeld started the trend of 'funny characters, bad people', and broke ground on what was considered appropriate TV. And we are all thankful for it. Also, Kramer is easily one of the funniest characters on the silver screen, like, ever.
Broad City- Two words: YAS QUEEN. Broad City is about two 20-something girls trying to make it in New York. Logistically speaking, Broad City should have crashed and burned ages ago, but there is something refreshingly offbeat about the show that makes it worth a watch. Perhaps it is the unabashed antics of Illana, or the unintended ignorance of Abbi that makes Broad City so unique, or it could just be the simplicity of the premise. I guess we'll never know. 
Silicon Valley- Set in the world's most innovative city, and focusing on the journey of a small tech company, Silicon Valley has two sides that make it such a gem. First, there is the action packed, humorous and nonsensical in a rational kind of way (???) half of the show that makes it graciously welcome in my laptop. Then, there is the other half that makes for devastatingly good TV. This half, unlike the "superficial" first, is keenly conscious of its character's frustratingly slow-paced adventure. Have fun with the feelings of hatred and love. 
Arrested Development- The final show on the list is, without a doubt, the most amusing and clever 3 seasons ( I won't count the average 4th season Netflix produced) of TV that the world has ever seen, too hilariously intelligent for its own good (literally) and so self aware that audiences were hooked after the first five minutes; Arrested Development is pure, unadulterated genius. With a family more dysfunctional than the Lannisters', more weirdly dependent on each other than the Simpsons' and less family-like than anything ever, of course you are going to have a comedic goldmine on your hands (ADDED BONUS: GOB Bluth: the world's most hated son).
We hope that your life has been enriched and we've given you some shows to check out. Let us know of any TV series you reckon we should get into – love to hear your thoughts in the comments below.
Happy watching…
Much love,
Two Crazy Youth