Australia: the land of beautiful beaches, Vegemite and kangaroos, and, much to the embarrassment of its people, a seemingly unstable and unpredictable prime-ministership. Looking at our current predicament objectively, there is plenty to be thankful for. Not many countries in the world can boast a whopping 6 prime-ministers in 11 without major uproar, rioting and economic and social insecurity. For what its worth, Australia has managed to keep a high quality-of-life for its citizens (2nd only to Norway, according to the UN), has the 6th longest life expectancy, 7th best education system in the world, and has the 11th highest median wealth per capita in the world.
For a country where the random changing of PM is as much a national sport as cricket is, we aren't doing too badly. Maybe we really are the lucky country.
So what is it like then, for the people who drew the jackpot in the lottery of life, to live under this ever-changing leadership? To answer that, we have to take a trip down memory lane to 2007, the year of Peter Parkers's infamous dancing, the first iPhone, Harry Potter and the Deathly Hallows and the year that Australia farewelled John Howard and beckoned in Kevin Rudd. Kevin 07 anyone? This was the last year that we, as a nation, had a PM serving a full term in the position. They were simpler times indeed. Little did anyone know what was to come. Rudd managed to last a whole 3 years before the first of many leadership spills. For those who don't know, I'll quickly explain: it's essentially the vacancy of a parliamentary position caused by discontent within the party. And why can this happen you ask? I'll assume you are familiar with the American political system and throw this one at you. When voting in Australia, instead of voting for the candidate, like the USA, your vote is counted for the party and their leader. It's kind of like voting for the Democrats rather than voting for Hilary Clinton. This may seem a little weird because for many politicians, their ideals, values and policies can vary dramatically (see Donald Trump and the late, great John McCain), but here, not so much. Don't get me wrong, there are definitely differences, but perhaps not to the extent as our friends over the Pacific.
So, if members of the party are unhappy with the leader, a leadership spill occurs and the party leader can be replaced.
It's happened four times in the past 8 years.
Anyway, back to Kev. His party, the Australian Labor Party (SO ANNOYING THAT IT'S SPELT THAT WAY) grew unhappy with his performance as PM so they kicked him out and voted in Julia Gillard, Australia's first female Prime Minister. It should have been such an auspicious moment in our history, but it wasn't. Right from the get-go, Gillard was slaughtered for her red hair, long nose, broad-Australian accent (think Steve Irwin), her marital status and everything in between. For 3 years, she battled through the torrents of abuse and mockery to create the National Broadband Network, which is where Australia has gotten its terrible-internet-speed-reputation from, passing the short-lived Carbon Tax bill, something that I feel, is so appropriate for a world that is, in essence, dying, and introducing the National Disability Insurance Scheme, which was a misstep in the right direction (great article here to explain what that contradiction means). Her Prime Ministership was a mixed bag and was ended in 2013, when the Gillard government came crashing down with our second leadership spill.
Her successor was none other than Kevin 07.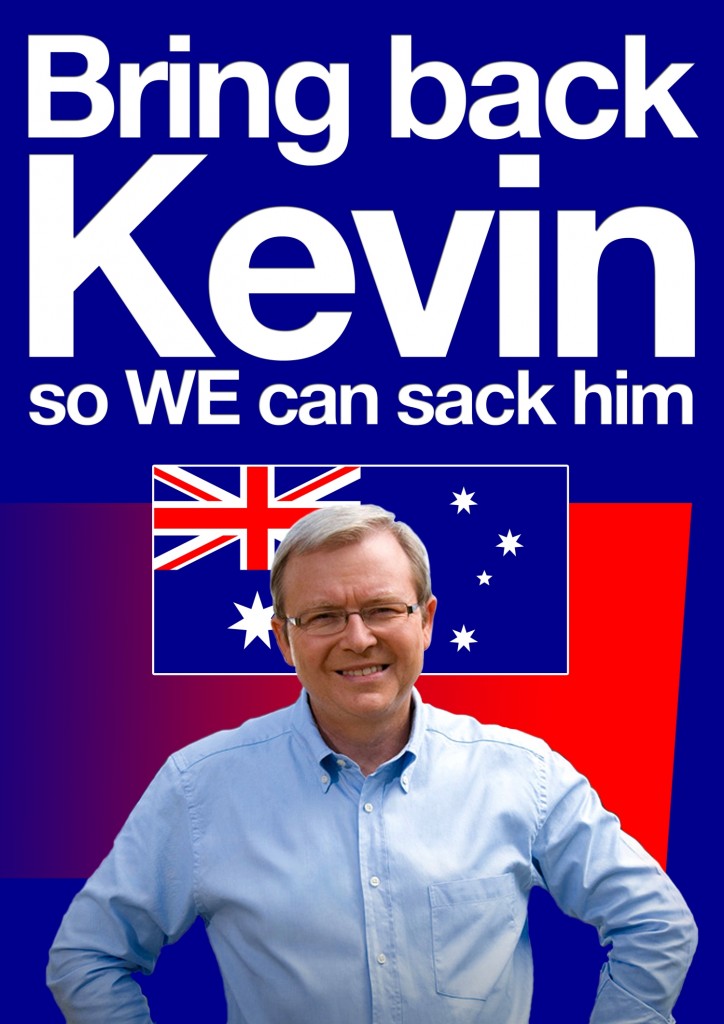 Mr Rudd this time, however, lasted a mere 2 and a 1/2 months before he was booted out by the legendary budgie smuggler, Tony Abbott. Weirdly, Abbott seemed to last a lot longer than 2 years, but alas I can't argue the facts. The only thing I can really remember about is term in office was that he ate an onion, whole, and that everyone seemed to hate him. I should mention that Phoney Tony was part of the Liberal Party of Australia, which is kind of like the Republican Party to Labor's Democrats but neither are to the extreme of their respective wings. Instead, mostly minor variations in policies lie between Labor and Liberal. Abbott was replaced by the contrastingly mild-mannered Malcolm Turnbull in 2015, and he has been our PM for the last 3 years. Until just two days ago, when he was given the axe, and Scott Morrison become our 6th Prime Minister in 11 years.
At least ScoMo is better than Dutton, the man who feels that our 3.1 people per square kilometre is 'overcrowded'.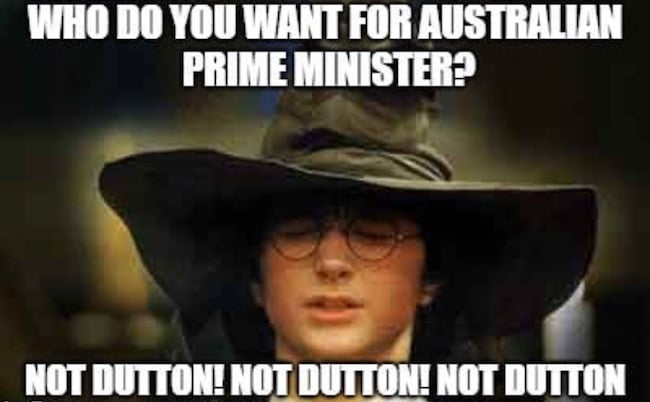 So there you have it, a brief history of the past 11 years in Australian politics. It really is very All About Eve-esque if you ask me. This brings me to the original question: what is it like living among this society of back-stabbing, selfish pricks?
It is kind of hard to describe because, generally speaking, we are a pretty easy-going people. So I'll say it like this: for a country that relies so heavily on a self-deprecating sense of humour, it is becoming increasingly difficult to bear the burden of being the laughing stock of the rest of the world. On top of that, Australian's typically don't care about politics. Many of us tend to live in a haze of warm weather, sun-kissed tans and back-yard cricket on a summer's afternoon. It really is a paradise, and one that we do take for granted. But at announcement of a fourth leadership spill, the Australian public rugged up to face the harsh, icy taunts of the nations around us. Winter has never been so unwelcome.
The reality is, it's not the fact that we have a grow accustomed to a new PM, because as I said above, there isn't dramatic variation between each leader and the politically uninterested Australian, they wouldn't be able to tell you the difference between the way Gillard and Abbott ran their governments. Instead, its the fact that, worldwide, #libspill and #auspol were respectively trending at 11 and 15 on Twitter. For a country of 25 million, our national embarrassment certainly had a global impact. And for two young youths living our teenage years through such times has been difficult. We've never really had a Barack Obama or an Angela Merkel, that one leader who catches the nation's heart and mind. Then again we haven't had a Donald Trump, so we do have something to be truly thankful for. This'll blow over in a couple of days and we can go back to laughing at Trump. Fingers crossed!
One Half of the Two Crazy Youths